In 1959 a small charter plane crashed in
Clear Lake Iowa, and onboard were three
of Rock N Roll's greatest Stars.
There were no survivors.
We were, saddend astonished,and in disbelief.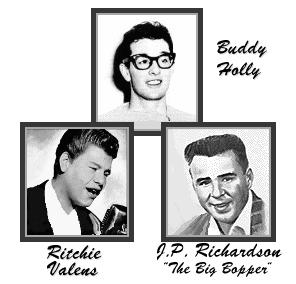 Jiles P. Richardson, known as The Big Bopper to his fans, was a Texas D.J. who found recording success and fame in 1958 with the song Chantilly Lace.
Richie Valenzuela was only 16 years old when Del-Fi record producer, Bob Keane, discovered the Pacoima, California singer. Keane rearranged his name to Ritchie Valens, and in 1958 they recorded Come On, Let's Go. Far more successful was the song Valens wrote for his girlfriend, Donna, and its flip side, La Bamba, a Rock and Roll version of an old Mexican standard. This earned the teenager an appearance on American Bandstand and the prospect of continued popularity.
Charles Hardin "Buddy" Holley (changed to Holly due to a misspelling on a contract) and his band, The Crickets, had a number one hit in 1957 with the tune That'll Be The Day. This success was follwed by Peggy Sue and an appearance on the Ed Sullivan Show. By 1959, Holly had decided to move in a new direction. He and the Crickets parted company. Holly married Maria Elena Santiago and moved to New York with the hope of concentrating on song writing and producing.